With all of its different frameworks, jargon, and concepts, the realm of project management can have you saying to yourself, "It's all Greek to me."
That said, project management functions a lot like a language, with key structures and details that result in real meaning.
Project management (not to be confused with program management) is the process that guides a team's work to accomplish all project goals within certain parameters.
The goal of project management is producing a complete project that meets objectives. In this guide, we'll break down how to effectively use project management — all in plain English.
What is project management?
Project management (PM) is defined as the framework used to guide your team to success—this includes your team objectives, tools, and techniques both over the long-term and your day-to-day work.
Why is project management important? 
Project management is important because it provides the leadership, motivation, and roadblock-removals that help teams introduce new products or services, grow revenue, and meet other company goals.
According to a study by the Project Management Institute:
In 2020, 11.4% of every dollar invested in projects was wasted due to poor performance or management.
By prioritizing the use of effective project management methods and frameworks, organizations can proactively and continuously improve their workflows to avoid overspend and mistakes. During these fast-moving times, the companies who rise to the top rely on solid project management to remain efficient and productive.
Now that we know what project management is and why it's important, where do you start?
Is there a process to project management? Yes—and we break down all five phases
The Project Management Institute (PMI) breaks down the project management process into five phases that are relatively well-agreed upon in the project management space:
Entire books have been written on the above structure and what each step comprises of—but we'll give you the high-level information you really need to know:
1. Initiating
As with any good project, preparation is vital to ensure it will be completed on time and within budget. During the initiation phase, determine the following to create the project foundation:
Project scope: the specific limits and boundaries for the project. It essentially covers what will be accomplished in the project and what will not (i.e project objectives). Establishing these boundaries prevents something called "scope creep." You can learn more about it here.
High-level project overview: This considers the resources, time, and goals required to complete a project. Included in the overview is a way to monitor these requirements over time.
Budgets: How much is needed to achieve a successful project?
For larger projects, a project charter or "Project Initiation Documentation" (PID) might be established.
2. Planning
During this phase, key milestones and dates are set, including the final project completion date. By getting clear and intentional about project timing, you can help ensure that all team members move towards the same goal. This will also save you a road of confusion ahead when you encounter roadblocks.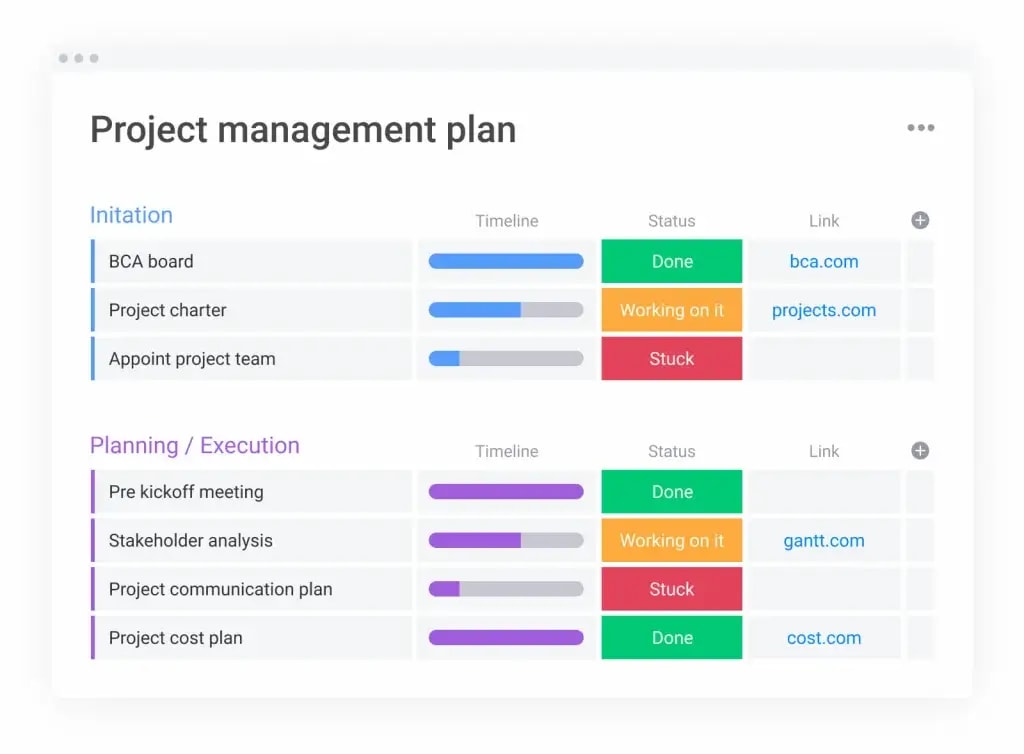 During this process, it's important to outline which project management methodology the team will follow. There are many to choose from: Agile, Waterfall, PRINCE2, PMBOK, Scrum, Lean, and Kanban (to name a few of the more popular ones). We'll get into more specifics around some of these later in this guide.
The planning phase also includes:
Selecting the team members
Outlining deliverables
Estimating resources
Determining associated activities
3. Executing
At this point, it's all about getting stuff done. During the execution phase, you will carry out the details of your project plan (or project deliverables) to deliver your products to your specific stakeholders. This stage occurs simultaneously with the monitoring and controlling phase and might involve:
Managing workflows
Recommending changes and corrective actions
4. Monitoring/Controlling
This is crucial in any project life cycle as it helps project managers answer the question: where are we at any given point in the project vs. where should we be according to the project plan? Effective monitoring requires:
Regular, consistent project "check-ins"
Use of proper project documentation and tracking tools or frameworks (such as Kanban boards, Gantt charts, and team stand-ups). The more visual and real-time this is, the better as you can then easily communicate it to key players and adjust.
5. Closing
This final step, sometimes known as "project delivery," is when you wrap up all activities and deliver the final product to the client (an internal team or external stakeholder).
Some additional components could be:
Conclusion of any formal contracts or agreements
A full review or audit of what went well, what didn't go as planned, and how future teams and projects could learn from this one.
8 tips for successful project management
When managed right, projects allow companies to develop new products or services, transform internal business processes, and produce value for customers. However, without the right building blocks in place, they can lead to a lack of innovation and drain on your time and money.
Here are 8 tips for successful project management that propel your organization instead of holding it back.
1. Invest in the initiation and planning stages
When it comes to answering, "Why do projects fail?", many of the reasons can be traced back to poor planning and research—crucial parts of the initiating and planning stages of the project life cycle. By establishing, syncing, and agreeing on key aspects such as organizational priorities, objectives, and requirements early on, there is less of a chance for confusion on them later.
2. Pick right framework or methodology for your project
The second step toward successful project management is finding the right framework or methodology. Project management methodologies describe a set of guiding principles and processes that are used to plan, manage, and execute projects. Whether you choose the critical path methodology or Waterfall, these frameworks determines how work is prioritized and completed, as well as the way it is visualized.
3. Promote a culture of transparency and ownership
Transparency can make all the difference when managing a project as complexities and sensitivities arise. With a strong culture of transparency in place, team members and leaders can rely on each other to raise flags or take ownership for their work regardless of how granular or stressful your plans get.
This starts with clear communication, so each contributor can understand your long-term goals, KPIs (key performance indicators), and plans—as well as where they fit into the puzzle. One way to achieve this is to involve every employee in the planning process (at some level), and give them ownership over tasks and deliverables by using a solid project management workflow, which you can create with monday.com Work OS. An added perk of this culture? Employees tend to self-manage more effectively (so long, micromanaging) and with a greater sense of accountability, their motivation to perform their best will also rise.
4. Decide on a realistic scope
Scope creep is one of the main challenges project managers face. 52% of companies experience scope creep or unforeseen changes to the scope during a project. While this could be related to uncontrollable factors throughout a project, having the right people at the planning table can help you more accurately define project scope from the start. By including experienced stakeholders and team members in the initiating and planning stages, you can avoid a lot of frustration later. You can even refer back to old project data to help set the scope stage more clearly.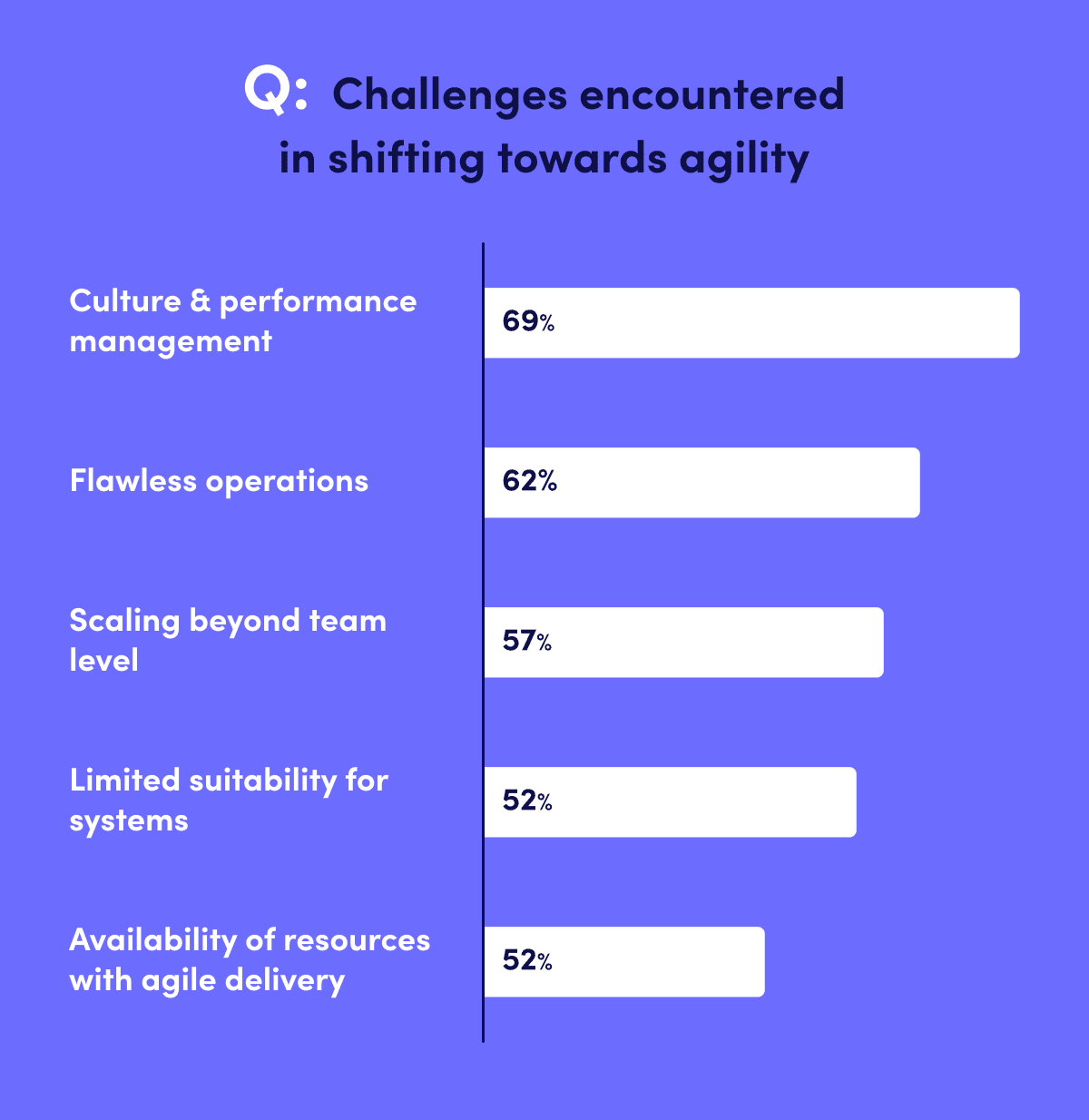 5. Get wise about scheduling
If you want your team to stay productive, you need to create work schedules that are realistic to your team's workloads and the intended delivery date. While it's almost impossible to develop the perfect project management timeline, balancing these two factors is a worthwhile investment. With a Work OS like monday.com, you can see individual or team workloads with Workload View in the same workspace that you manage calendars, timelines, and resources.
Proper and clearly communicated schedules help mitigate delays and other costly setbacks. The type of project management methodology you use can also impact the way your team uses its time to reach a goal or several smaller goals. If you use an Agile framework like Scrum, you will focus on the short-term and smaller deliverable increments. It's also important to schedule time for things you don't plan for in a project.
6. Practice effective resource management
Resource management is an important tenet of project management and describes the process of pre-planning, scheduling, and allocating your resources to maximize efficiency. In the physical sense, resource management could be explained through the example of a contractor managing construction projects—they could decide to book a concrete pourer for two sites in lieu of having to pay the cost for two at the same time.
For digital projects, resources often refer to specific employees or teams. A graphic designer may have several concurrent projects, so you'll need to plan with them in order to get the job done. The list goes on to include any number of resources including people, capital, and other material goods.
7. Get stakeholders engaged
A stakeholder is someone directly invested in the project's success. They could be a key client, internal product user, executive, or product manager. In order to garner their support—financial or otherwise— that fuels a project, teams and project managers shouldn't skimp on any work needed for their projects.
Communication and input between these two parties should be established before, during, and after a project. Why? Because each offers unique insights and perspectives relative to the organization's goals and the team's capabilities. A Work OS with robust features will help you to present important data and timelines in real-time you can refer back to again and again.
8. Choose next-level project management tools and software
To succeed in the modern world of remote work, inter-departmental collaboration, cloud file sharing and 1,000 other variables unique to your company, you need a modern project management platform.
monday projects offer the complete toolkit for every project and is built on an easy-to-use Work OS. This gives you the freedom to work in whatever project management framework you prefer. With views ranging from our custom table (with color-coded statuses) to Kanban board, Gantt chart, timeline, and calendar views, you can truly customize the experience to your workflow.
You can also seamlessly integrate monday.com with other tools in your tech stack, and share boards, dashboards, and updates with your entire team in real-time.
4 frameworks to guide project management
One of the most crucial project management decisions you'll make is choosing a framework because it dictates how you structure your team and how you plan and monitor your projects.
As promised, here are high-level descriptions of the leading project management frameworks (with links to even more comprehensive deep-dives):
1. Waterfall project management
Waterfall or traditional project management is focused on "perfect planning." Before you even get started, you break down and schedule the entire project from start to finish.
If you're working with physical products with lots of dependencies or services where your SLA demands perfection, consistency, and set-in-stone deadlines, there's no better alternative.
Check out our complete guide to Waterfall project management here.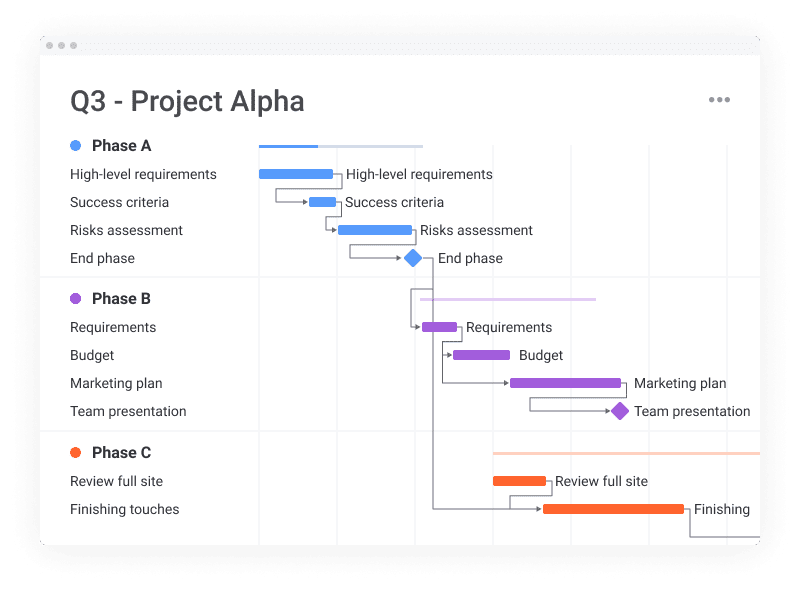 2. Kanban project management
Unlike the Waterfall framework, Kanban project management focuses on continuous improvement. Using a Kanban board like the one above, your team plans how to improve products, campaigns, or processes.
Who should use Kanban? Kanban helps you visualize your work to limit work-in-progress (WIP) and quickly move work from "Doing" to "Done." Kanban is great for teams that have many incoming requests.
To learn more about Kanban project management, check out our guide.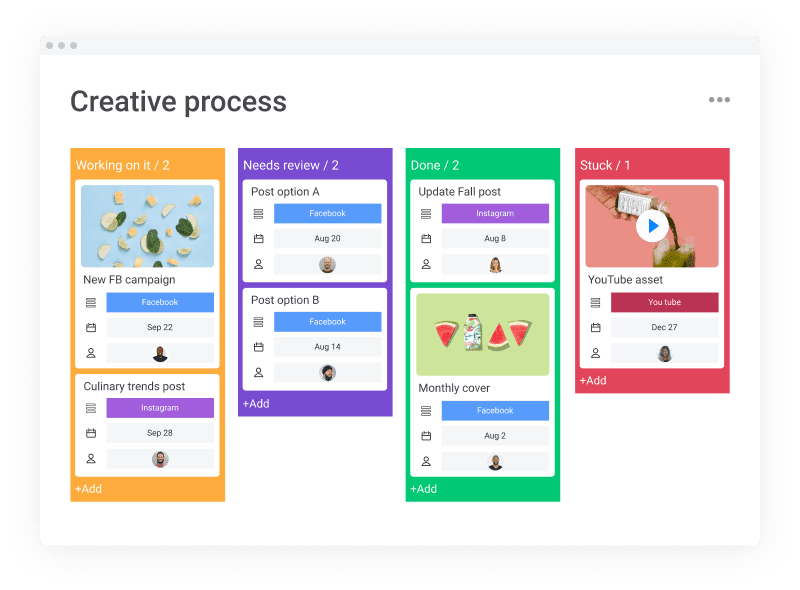 3. Scrum project management
The Scrum framework is the most popular way to implement Agile project management. It divides larger projects into shorter, 1–4 week sprints that adapt to demands as the project evolves.
It also lays out rules for team size, team roles, planning, meetings, deliverables, and more. While popular among software developers, it's also great for teams that seek to deliver functioning increments of their work during a project. For example, you could use it for marketing campaigns, product design, or other creative projects.
Read our post on the Scrum methodology to learn more.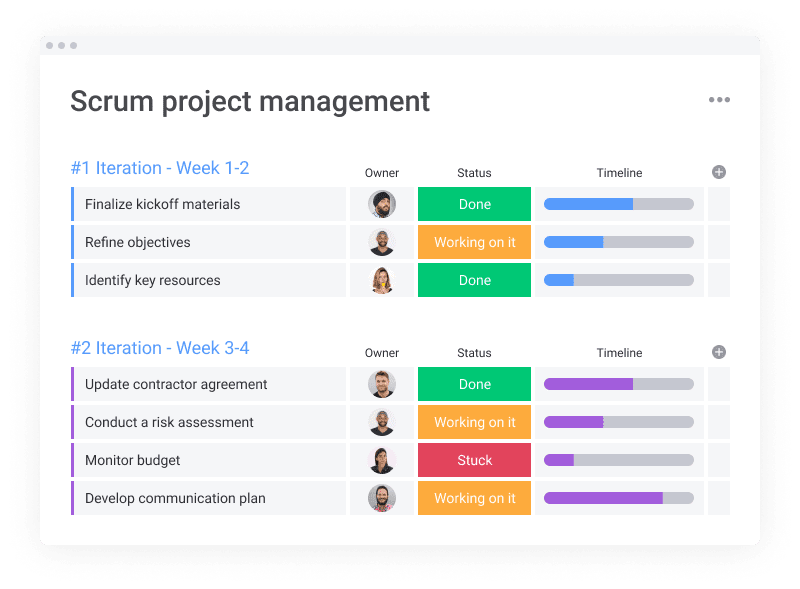 4. Agile project management
Agile is a project management buzzword and is often prescribed as a catch-all solution to inefficient companies. However, it has its own unique shortcomings, like the ones below.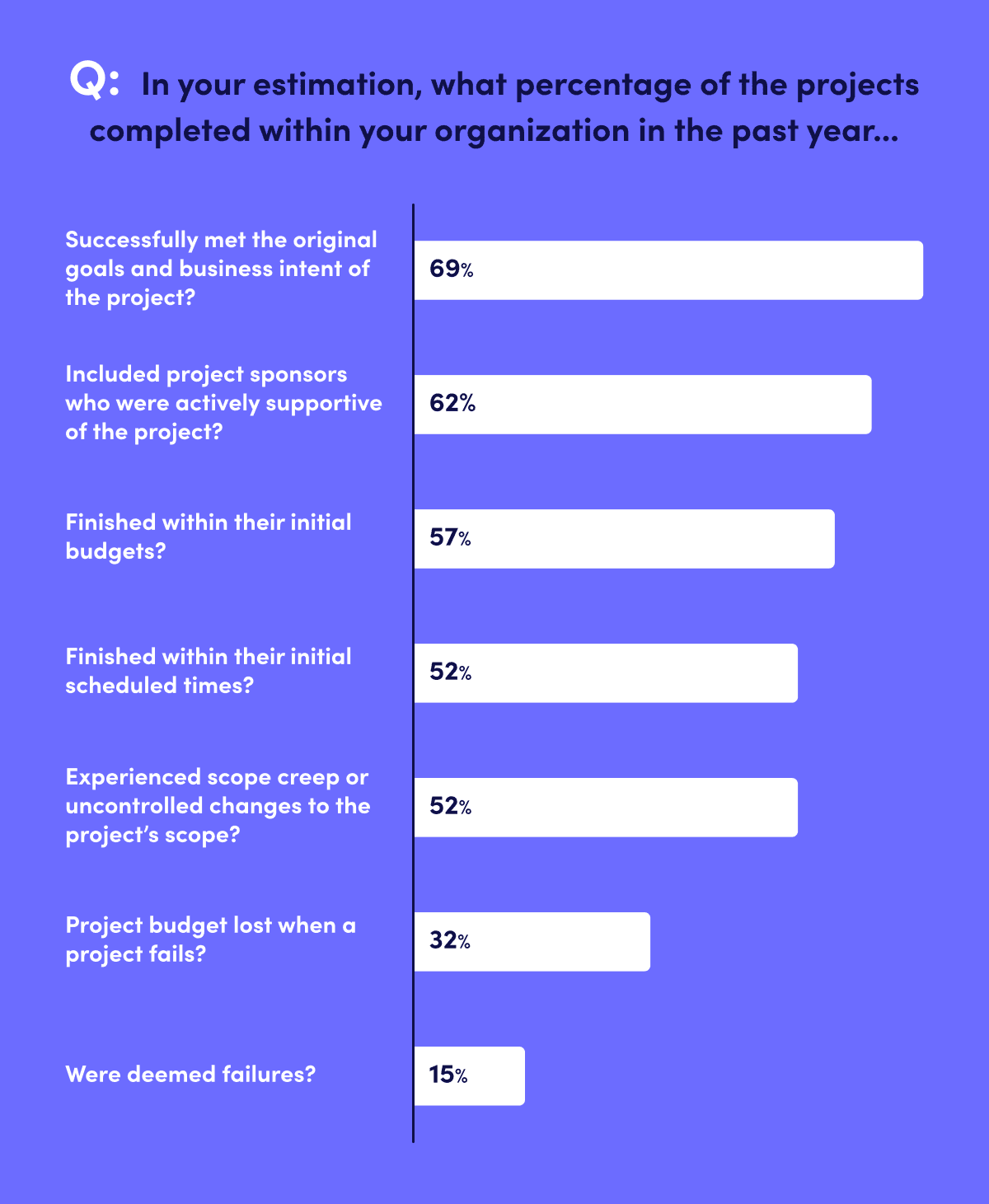 Agile frameworks, like Scrum, are designed to leave room for mistakes, trial and error, and unanticipated changes. In other words, if you employ an Agile approach, don't expect your operations to run perfectly. They can also be hard to scale beyond a smaller team level. On the other hand, for many teams, having the flexibility to amend project plans as time goes on is integral to ensuring they can finish the project at all.
To learn more about running your next project using an agile framework, check out our walkthrough. 
We also have a great blog on top project management methodologies to further help you understand your options.
We've covered the project management phases, its frameworks, and tips for success, but what about the key players who will take the project from A-Z? We're talking of course about your team. Here's how to ensure you choose the right people for the project.